This post may contain affiliate links. Please see our full Disclosure Policy for details.
A cool & refreshing winter spin on a traditional Amish cookie, these puffy, cake-like treats are the perfect blend of chocolate and peppermint.
Move over, my beloved pumpkin. Make way for Peppermint Mocha.
And I don't just mean in my coffee.
The Sweetest Season Cookie Exchange Week 2015 is here, folks, and it means way more than just festive sugar, gingerbread, and more chocolate chip cookie recipe variations than you can shake a candy cane at.
There is a HUGE giveaway hidden in this post! Like a prize worth almost $700 huge.
But, let's not get ahead of ourselves. How about three cheers for these perfect Peppermint Swirl Whoopie Pies first?
Being a Southern gal, I'm admittedly slightly ignorant of Northern traditions. In spite of my family all hailing from the Buffalo area (Go Bills!), I've never actually had the chance to see where my grandparents and great-grandparents grew up.
I know. For shame.
As for Mr. Crumby, he's a Pennsylvanian – by way of the Dominican Republic – at heart, and he made sure to introduce me to the famous Amish Whoopie Pies during our last visit there a few years ago.
Now, I've had types of whoopie pies before (mostly pre-packaged), but the first bite of the original was unlike no other. Soft, fluffy, dense, and sinful all at once.
These are not your Amish Granny's whoopies pies, though. These babies are made with no shortening (which is usually all or at least half of the fat used in these) – only my favorite beloved butter.
The chocolate cakey cookie is very similar to the tried and true version, and is pumped full of a peppermint and vanilla bean buttercream swirl that is just wonderful, and is bound to fill you with holiday cheer, especially if you're enjoying them over a hot mug of coffee or cocoa.
The Christmas season is my absolute favorite time of year for so many reasons, and not simple sentimental ones.
I get to use ridiculous amounts of butter in all of my baked goods.
Adding peppermint to pretty much anything is totally acceptable.
Oh, and I get to take part in one of the greatest baking giveaways ever!
I'll quit yammering. Make the whoopie pies, and enter this giveaway to help you do just that!!
Peppermint Swirl Whoopie Pies
Author:
Prep time:
Cook time:
Total time:
A cool & refreshing winter spin on a traditional Amish cookie, these puffy, cake-like treats are the perfect blend of chocolate and peppermint.
Ingredients
For the Pies
2 cups all-purpose flour
1/2 cup unsweetened cocoa powder
1 1/2 teaspoons baking soda
1/2 teaspoon baking powder
1/2 teaspoon salt
1/2 cup[url href="http://stirlingcreamery.com/consumerproducts.php" target="_blank"]Churn84 unsalted butter,[/url] softened
1 cup brown sugar, packed
1 large egg, room temperature
2 teaspoons vanilla extract
1 cup whole milk
For the Swirl
3/4 cup Churn84 unsalted butter, softened
3-3 1/2 cups powdered sugar
1-2 Tablespoons milk or heavy cream
1 teaspoon vanilla bean paste
1/2 teaspoon peppermint extract
Red food coloring (or suitable substitute)
Instructions
For the Pies
Preheat oven to 375 degrees F. Line two baking sheets with parchment paper.
In a medium bowl, combine flour, cocoa, baking soda, baking powder, and salt. Set aside.
In a large bowl, cream together butter and brown sugar for 2-3 minutes with a stand (or hand) mixer until light in color and fluffy. Add egg and vanilla, mixing until fully combined.
Alternately add in flour mixture and milk (beginning and ending with flour), and mix until just combined.
Using a small or medium cookie scoop, drop dollops of batter 2 inches apart on baking sheets (you will need to work in batches). Bake for 8-10 minutes until the cookies are puffy and spring back when gently touched.
Remove from oven and allow to cool on baking sheets for 5 minutes before moving to cooling rack and continuing with the remaining batter.
For the Swirl
In a clean bowl, cream butter for 30 seconds on high speed.
Add powdered sugar to butter 1/2 cup at a time, mixing on low and allowing it to combine before adding more. Add until it reaches your desired sweetness.
Add in milk/cream a Tablespoon at a time, until the desired consistency is reached. Then add vanilla bean paste. Beat together on medium-high speed for 3-5 minutes until fluffy.
Remove approximately half of the icing and place in a separate bowl. Add peppermint extract and desired amount of red food coloring to remaining icing and continue to beat 1 more minute until incorporated.
Stripe a piping bag on one side with the red peppermint icing, and carefully stripe the other side with the vanilla.
Flip half of the cookies so the flat sides face up, and fill them with icing, swirling from the outside to the inside. Top with remaining cookies, serve, and enjoy!
3.4.3177
Sweetest Season Cookie Exchange Week 2015
60+ blog friends are sharing gorgeous cookie recipes over eight crazy days, and today, I've teamed up with 50 other bloggers to bring you The Sweetest Season's Sweetest Cookie Giveaway! Miss Erin at The Speckled Palate, Miss Susannah at Feast + West, and Little Old Moi have helped to put together an incredible cookie baking prize package, and I can't wait to tell you more about it!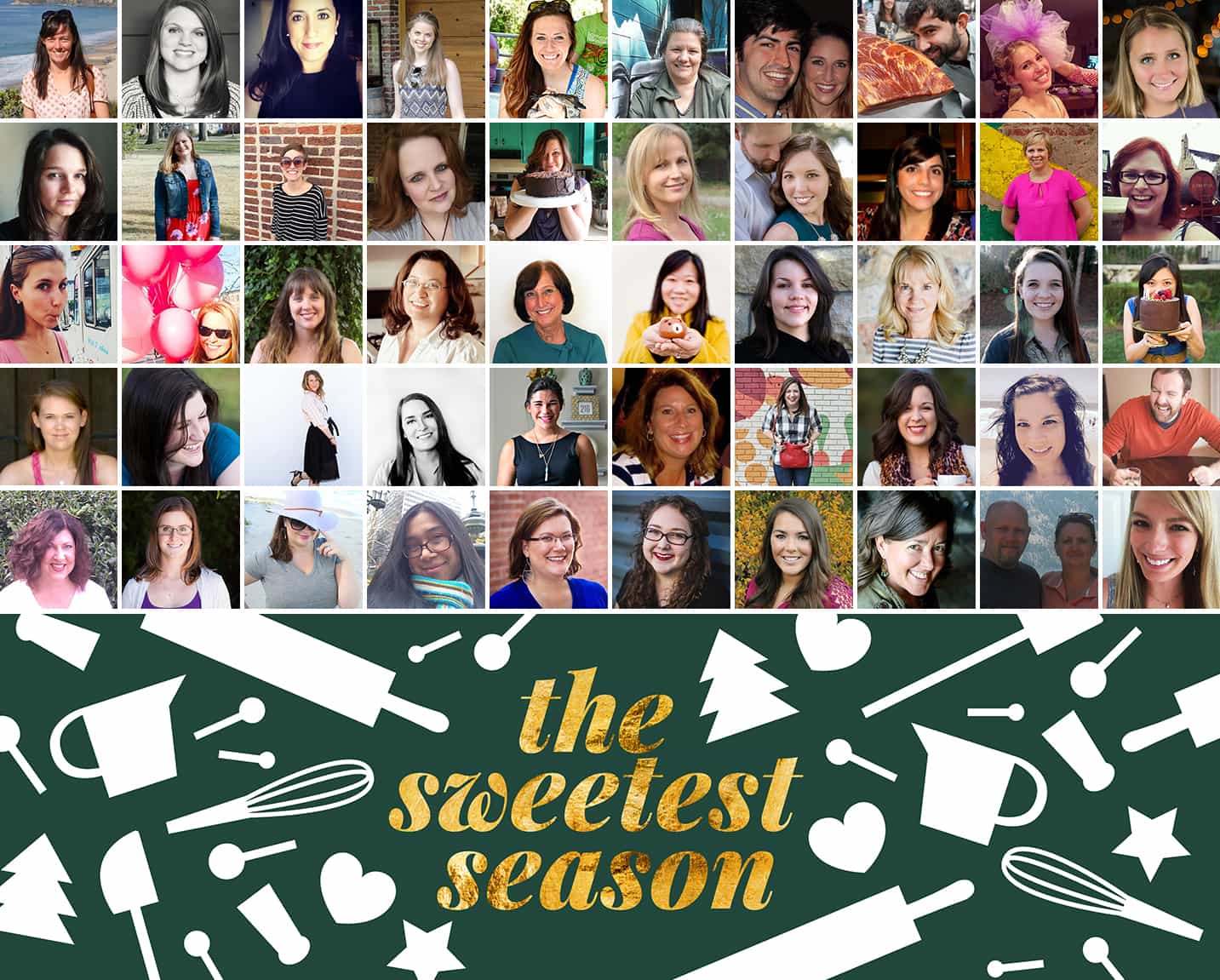 row one: Wit Wisdom Food | Beth Cakes | Alyssa and Carla | The Rustic Willow | Chez Catey Lou | Joybilee Farm | Arousing Appetites | The Food in My Beard | Lizzy is Dizzy | Lemon Sugar
row two: The Speckled Palate | The Gift of Gab | think fruitful | Majorly Delicious | Sugar Dish Me | An Oregon Cottage | A Savory Feast | The Foodie Patootie | Twin Stripe | Hidden Fruits and Veggies
row three: Appeasing a Food Geek | DC Girl in Pearls | Bessie Bakes | Brunch with Joy | Cooking With Libby | 2 Cookin Mamas | Lou Lou Biscuit | Me and My Pink Mixer | Wetherills Say I Do | The Little Epicurean |
row four: The Emotional Baker | Cake 'n Knife | Glisten and Grace | Meredith Noelle | The Secret Ingredient [is love] | SammaSpot | Hey There Sunshine | Natasha Red Blog | Flavors & Sabores | Macheesmo
row five: Beer Girl Cooks | My California Roots | Butchers Niche | The Skinny Pot | Sustaining the Powers | Feast + West | Not Your Average Southern Belle | Vanilla And Bean | Our Life Inspired | That Square Plate
Be sure to check out our blogs to see all of our cookie recipes throughout the week! We're using the hashtag #sweetestseasoncookies on social media this week, and we're joining even more bloggers baking cookies, so it's going to be a grand time!
Now, on to the giveaway!
A whopping 51 bloggers teamed up to bring you an awesome cookie-centric giveaway! We picked out a stand mixer and other goodies to make baking this season go smoothly. And, a big thank you goes out to the generous sponsors who helped with The Sweetest Season by organizing, as well as providing products to the participating bloggers and donating some incredible prizes for our giveaway! Be sure to check out Imperial Sugar, Dixie Crystals, Bob's Red Mill, Cabot Creamery and The Crumby Cupcake for lots of great recipe ideas. And check out Garnishing Co., who designed our graphics.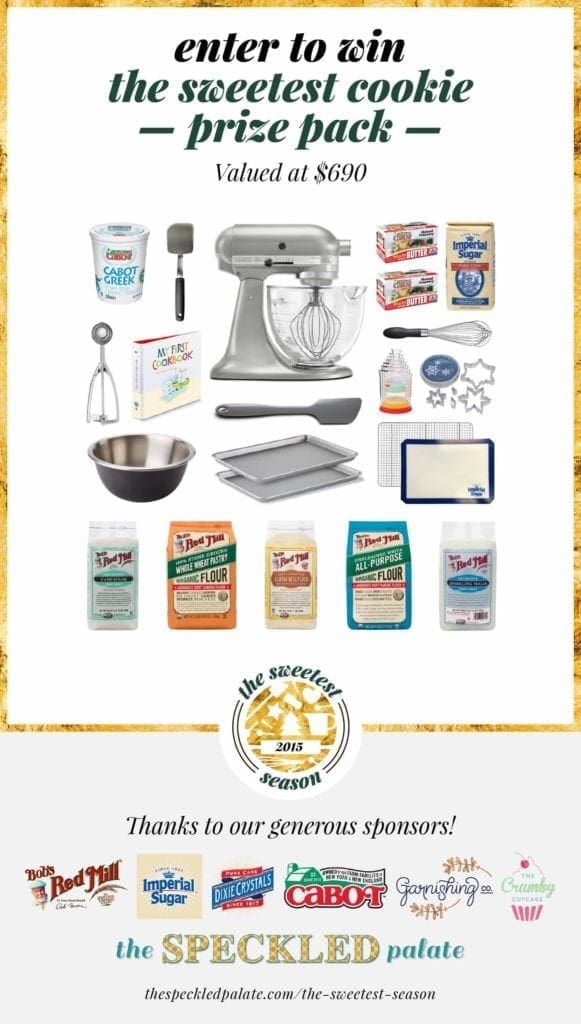 ORDER OUR #1 BEST SELLER COOKBOOK!
We're giving away The Sweetest Cookie Prize Pack, and it is worth $690! See the Rafflecopter below to enter to win this amazing set of cookie baking goodies. The prize pack includes:

Giveaway rules:
Enter the giveaway through the Rafflecopter widget below. Everyone gets a free entry! You can enter multiple times, up to 65 total entries by following the giveaway sponsors on social media. (If you've followed in the past, that counts! Just enter the information as prompted.) All entries will be verified. No purchase is necessary to win.

The giveaway is open until Saturday, December 19, 2015 at 11:59 p.m. CST. One winner will be chosen at random and e-mailed within 48 hours. Winners must claim prize within 48 hours of initial contact. The retail value of the prize is $690. Prizes listed above are the only ones available.

Open to U.S. residents with a valid shipping address only. Must be 18 years of age as of December 5, 2015.

To read all giveaway terms and conditions, visit the

giveaway terms and conditions page

or click the option in the Rafflecopter below to review them.
GIVEAWAY HAS ENDED! SORRY!