This post may contain affiliate links. Please see our full Disclosure Policy for details.
Who likes leftovers?! If you do, this week's meal plan is for you!
I solemnly swear that I am up to no good.
In the kitchen, that is. To be honest, I have been up to very little in the kitchen!
I know I haven't had anything fresh for you in a few weeks, but with taking some time off over the holidays, working on a new project, and then struggling to get used to my snazzy new computer, I've had such a hard time getting back into the groove!
The good news is that my slump is nearing it's end, and things will be getting back to normal around here next week! For now, please feast your eyes on next week's meal plan, including my most popular dinner recipe!
This year, I've teamed up with a handful of other efficient bloggers who also love free time out of the kitchen to bring you our #KeepItEasy weekly meal plan. Every Friday, we'll be sharing 5 tasty dinner options, a breakfast, and a dessert for you to work in to your family meal schedule.
Sound good? I thought so! On to the yummies!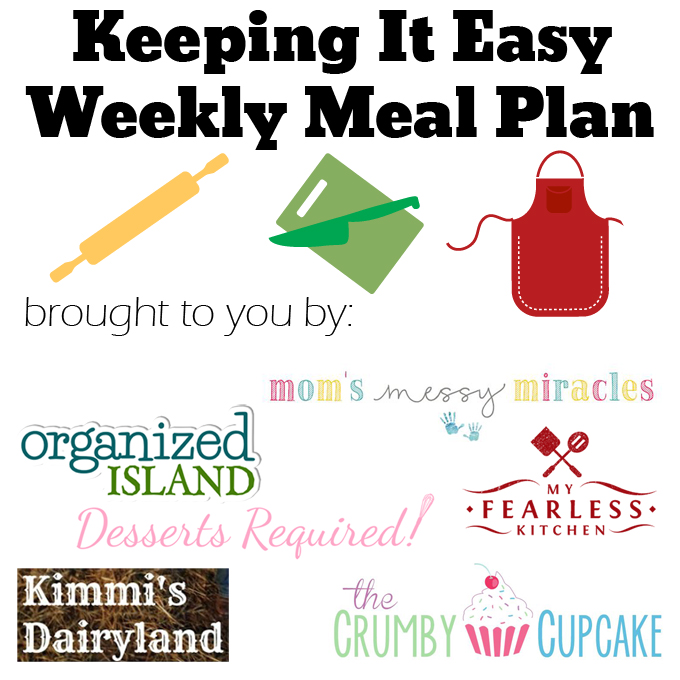 Let's start with dessert… because why not?!
Desserts Required whipped up these ah-mazing Gooey Oreo Peanut Butter Brownie Cups, and I can't get enough!
If you love a hot breakfast, but don't have a lot of time, try this Slow Cooker Blueberry French Toast from My Fearless Kitchen. It's perfect for breakfast or dinner!
Make this Balsamic Beef Roast from Kimmi's Dairyland on Monday, and you'll have leftovers for lunches!
Make this Easy Sloppy Joe Casserole from Organized Island when you need a fast meal on a busy school night.
Bump up your veggies with this delicious Baked Eggplant Parmesan from The Crumby Cupcake.
Toss these Balsamic-BBQ Pork Chops from My Fearless Kitchen in the oven for a quick meal that's packed with flavor.
ORDER OUR #1 BEST SELLER COOKBOOK!
Make Friday night pizza night with this Buffalo Chicken Pizza from Mom's Messy Miracles.
Take the weekend off, enjoy your leftovers, or eat out. We'll be testing more recipes for you in our own kitchens!